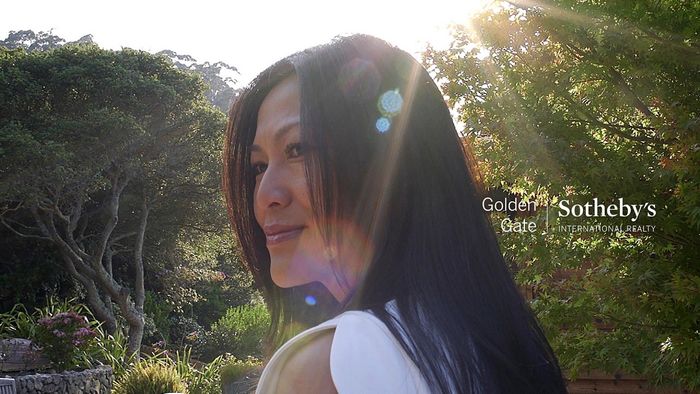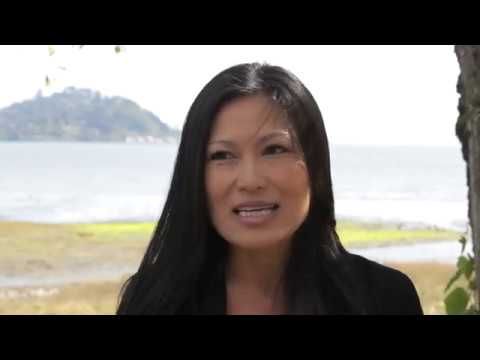 When I was two years old, I immigrated to the United States from Vietnam. Growing up, we didn't own a home, so now more than ever I value the importance of helping people find their own place in the world.
As a lifelong resident of Marin County, I've learned the ins and outs of the area. Personally, I reside in Sausalito with my husband Bruce, an entrepreneur and former CEO of Mortgage Management Systems, and our two children Boston and Skylar.
To me, home is more than just the four walls, but rather a lifestyle, being part of a community and having your own safe haven to live your best life.
I genuinely love being connected to the community here. My husband and I used to be co-owners of the historical luxury boutique hotel, the Gables Inn - downtown Sausalito. In my leisure time, I like to stay active - I volunteer in the Sausalito/Marin City Little League (SMCLL). In the past, I coached my son's soccer team for many years. Now I find joy being a member of the Sausalito Cruising Club. I feel blessed every single day for living in such a beautiful and diverse community while getting to help the fantastic people here transition from their homes to the next as a real estate agent!
Prior to my real estate career, I graduated from SFSU with a BA degree in Business with an emphasis on marketing. I went onto work as the Marketing Director for First Marin Realty for 8 years while building my real estate skillset as a full-time agent.
Fast forward to today, I've been focused on helping people sell their homes for the highest price for the last 14 years. I pride myself on the quality of service provided to each and every client. Skills, market knowledge and innovative technology are all necessary to do a job well, but I would also like to emphasize my greatest asset to my clients; my enthusiasm for doing excellent work, along with the sense of accomplishment I achieve with every client's victory. That coupled with my unwavering ability to problem solve and work effectively with my peers make me an outstanding partner for your real estate needs. Sotheby's has always defined luxury not by price point, but as a level of service. I strive to deliver a 5 STAR experience to each and every client I work with.
"Stephanie recently helped me find my dream home. We started this journey together several years ago, and she was so patient over the years showing me houses, and sticking with me even though it took some time to finally find the right house that had everything that I was looking for in a property. Many agents just would have given up and moved on. Stephanie's work ethic, commitment to clients, professionalism, and determination set her apart from other agents. Even after the sale, she continues to provide value help and insight as I start to do renovations by referring contractors, and expertise. I highly recommend her to anyone who is looking for a home."
- Amy Thorne, Buyer
"A true real estate leader that goes above and beyond! From the moment we met Stephanie, we were struck by her beautiful energy, charm and extremely intelligent knowledge of CA real estate. She is by far best in class in everything she does and we are fortunate that life has connected us to her."
"We met Stephanie about 2 years ago at an open house. Immediately we loved her! How could you not?! She is engaging, a great listener, and takes the time to understand her clients needs. Although the house was not for us, she continued to stay in touch. Last year when the pandemic hit, my husband and I stayed on Oahu but continued to look for a home in Sausalito. We needed to move out of our place in SF that was vacant for months, it was a very tough and trying time. Luckily, while we were searching online, we came across our beautiful dream home, and contacted Stephanie. In true 'Stephanie fashion', she picked up right away! From there, started our journey in going through the process of buying our first CA home. It was not easy but Stephanie earned our respect, she always had our best interest at heart, and truly weathered the storm with us and all the challenges of home buying during Covid 19."
"She genuinely believes in her clients, made us feel protected, and guided us through every challenge . She was patient, diligent in providing solutions, and worked closely with my husband to ensure that every task was taken care of, and made sure we were never taken advantage of.
She is more than a realtor, she is a problem solver, a confidant, an advocate and a friend. She was always available to take a call to help us! Due to circumstances beyond our control, our closing took longer than normal, but she stayed positive, never gave up and continuously gave us hope. Stephanie is a results driven professional, an excellent communicator, and truly THE BEST realtor on the planet! There are many reasons why, but the most important is she is about integrity, hard work, is humble and a fantastic human being. She is caring, considerate, smart and fearless. She champions her clients and she will 100% make sure that your experience with her is first class from start to finish.
Stephanie Pratt is a phenomenal and inspiring woman. We are grateful to have had Stephanie as our realtor and even more so now, our family friend."
- Philana Bouvier, Buyer
"Stephanie is the best buyer agent I've worked it. We started our "buying a house" journey several long months before we we met Stephanie. While we were working with other buyer agents, we were not able to accomplish results due how high our bar was to find the right home (also, after meeting Stephanie we realized how much we were doing on our own). Because the process was taking too long and was very unknown for us, the joy of buying was starting to fade. We were lucky to finally meet Stephanie (through a referral): I will simply put that after few days of meeting Stephanie in person we close on a beautiful home, in an amazing area and with the potential we were looking for. Although she made it look simple, I was impressed with her knowledge of the market, ability to understand our requirements, do her own research (including pre-tour houses) and ultimately pull the right levers during negotiation. This was a big decision for us, and we felt Stephanie was on our side all the way; She did not put the transaction as priority but instead made sure this was the right transaction in the first place. Stephanie even connected us with key people (E.g. contractor, structural engineer) to put our minds at ease during the transaction (at no cost). During the transaction we also faced some challenges which created some extra emotional stress but Stephanie kept it cool and allow us to keep moving fwd on time and super effective. Finally, I do have a high bar from people and I know at times I'm not easy to work with since I do care about details, price and ROI. Stephanie exceeded my expectations. Real estate is all about referrals and besides her 5* service Stephanie provides, she will leverage her great network of referrals to help you along the way. When I think about real estate, I do think about Stephanie first. I will definitely refer Stephanie with no doubt. Thank you Stephanie for your help. Looking fwd to work with you again in the future."
- Henrike C., Buyer
"There are Bay Area real estate legends that have achieved status as top producers and deal makers and Stephanie Pratt is one of them. She found us our dream home in Sausalito off-market and sold our Kent Woodlands house within the same week! She is tenacious, unflappable and best of all a joy to work with… none of the ego that usually comes with these prestigious talents. I'd work with her again, though now that we are in our forever home, we hope the need will not arise."
– Gina & Dave Pell, Buyer & Seller
"We had the pleasure of working with Stephanie for the buying and selling of our Sausalito homes. It was not our first experience (buying or selling) but it was by far the best. Her knowledge of the market, aptitude in working with different agents and attention to each and every detail made the entire process as stress free as possible. We were able to purchase our new home under-asking AND sold our previous house for over asking in five days. Stephanie helped us purchase our dream home, but if we ever dip our toe back into the real estate market we have an agent for life! "
– Ryan & Sarah Aylward, Buyer & Seller
"Stephanie Pratt did an outstanding job selling my investment property. I couldn't have asked for more. As a technology executive working and living in the South Bay, I was very pleased that the transaction was absolutely trouble-free for me. More importantly, the multiple offers Stephanie brought in made it possible for the property to be sold at $250K over the asking price. And, the deal was closed in just 29 days. A seasoned real estate agent, Stephanie is knowledgeable in the business and strategic in marketing. This listing agent is exceptionally diligent and hard-working. She was a tireless advocate in negotiating on my behalf; always looking out for my best interest. She carefully and expeditiously crafted a marketing plan to sell my property, and then effectively communicated it to me. Above all, she executed the plan so brilliantly! Stephanie anticipated all the hurdles for the transaction. The property required some repairs, and one tenant had to move out for a few weeks. She managed to smoothly coordinate all the activities with tenants, inspectors, and contractors. The transaction was absolutely pleasant for me. I look forward to having Stephanie Pratt represent me again on my other buying and selling real estate transactions in the near future."
– Lynn Barringer, Seller
"Stephanie Pratt did an amazing job selling my Greenbrae, California property. Since I was out of state, Stephanie handled everything from start to finish. She managed the entire remodeling process with contractors, stagers, and other things that got my house in tip top shape, and ready for market. Her advice allowed me to price it effectively and advertise it beautifully ; in order to obtain very strong offers. These efforts by Stephanie resulted in the sale of my home, well over asking price, and with favorable terms. The entire transaction was smooth, easy and we closed in just 23 days. I am very pleased with Stephanie and her driven results!"
– Mary D. Justice, Seller
"Thanks to Stephanie, we now live in a house we love! She made it happen in the most efficient and painless way possible because of her amazing solutions focused ability, her drive and tenacity to make things happen and her deep knowledge of the buying process. And the added bonus is that Stephanie is a fantastic person – she has a beautiful, natural personality and is honest, trustworthy and bursting with energy and passion. It was an absolute pleasure working with her. I wouldn't hesitate in recommending Stephanie and in fact already have!"
– Bettina and Sebastian Ferrando, Buyer
"Stephanie's amazing: focused, optimistic, agile, persistent, knowledgeable – and a total pleasure to work with. She helped me sell and buy homes recently and I couldn't have done it half as smoothly without her as a poised and market-savvy partner. Highest recommendation!"
– Susan Shea, Buyer and Seller
"I have had the pleasure of working with Stephanie Pratt since 2006. I appreciate her professional knowledge and am glad I have had two opportunities to work with her as both a Buyer and now a Seller. When listing our home for sale, Stephanie listened to our concerns and we worked together to decide appropriate courses of action for every situation we came across. Her caring, dedicated style helped us feel comfortable and well-informed throughout the Buying and Selling process. Stephanie's flexibility in scheduling and being available at a moment's notice became particularly important as she helped guide us through a tough real estate market and complicated negotiations. Stephanie is passionate about the services she provides and always strives to keep her clients informed and educated; especially in a Dual Agency, where she is working in everyone's best interest.
I look forward to continuing our relationship and hope others will find her valuable as well."
– Sharon Jen, Seller
"Stephanie Pratt did an excellent job getting my parents Marin County property sold. Since it was a trust sale with out of state Sellers and a very delicate situation; she was extremely patient and conscientious throughout the process. She was on top of all the details and handled things in a timely and professional manner. We would welcome the possibility of working with her again in the future."
– Laird and Jeannine Walton, Seller
"Stephanie Pratt was referred to me by our mortgage broker and after talking to a few other realtors prior, I knew she was the agent for us! I was a first time buyer and everything was a bit overwhelming at times, but Stephanie literally "held my hand" to help guide me through the entire escrow process. She negotiated a fantastic price and terms. Fast forward 9 years when it was time to sell at the height of the market.. Stephanie had all the resources to get my property ready for market with painters, handyman, stagers, etc. to ensure the best value possible. To be honest I was skeptical at first, but after the feedback and multiple over bids received, I am a true convert. The price I accepted was significantly above what I had expected. Thankfully, I can say without a doubt that Stephanie is an incredibly persuasive Realtor who knows how to get the job done!"
– Mark Carrington, Buyer & Seller
"I used Stephanie Pratt for the purchase of my first investment property and it turned out to be one of the best decisions I've ever made. Although I was looking into other investment opportunities with other agents in San Francisco, Sonoma & out of state, Stephanie found me a great multi-unit property in Tiburon. She previewed it while I was out of town and even though there were two other offers on the table, we scrambled to go see it and put together an offer the moment I got back. We ended up beating the other offers with our terms and in the end were able to negotiate a price of $300,000 under asking price, which helped with the numbers tremendously! It has turned out to be a low risk, headache-free, solid cash flow investment and I'm so grateful to Stephanie for finding it and for her hard work during and after the escrow process. She is highly trustworthy and always looking out for your best interest."
– Phillip Snead, Buyer
"Stephanie represented us in the purchase of a 2-unit investment building in San Francisco. We own several properties and have had experiences with other agents, but found Stephanie to be a very honest, extremely thorough and pleasant person to work with. She helped guide us through the process in the most genuine, accommodating and efficient manner, which is much appreciated with having two young children. We can't say enough good things about her. It was such a wonderful experience working with Stephanie that we would highly recommend her to anyone with all of their real estate needs!"
– Jimmy and Sharon Goh, Buyer
"I am an attorney and real estate investor and Stephanie acted as my Buyer's agent in a 1031 exchange purchase for a fabulous two-unit building in downtown Sausalito. The property was overpriced and had been on the market for a considerable period of time. Stephanie continued to keep me updated on the status of the property and seller's motivation level. We submitted three different offers that were all rejected with no counters, but she never gave up. Finally after almost a year, we submitted a final offer that Stephanie was able to negotiate and get accepted. It was a win/win situation for all parties. The property was completely re-built and had never been occupied. Therefore, many details were overlooked that we did not discover until after the close of escrow. Stephanie worked diligently with the Seller's agent, even after the sale to ensure that all of the issues were resolved in a timely manner. After the work had been corrected, Stephanie was also instrumental in marketing the property and procuring the most qualified, wonderful long-term tenants for both units at top dollar and in the least amount of time. Stephanie has proved to be a full-service Realtor who will go above and beyond the call of duty for her clients. I will always be thankful for her dedication and extremely hard work. She is a true professional!"
– Rick Moran, Buyer
"Stephanie Pratt helped us with the purchase of our Sausalito dream home in the height of the market. During this buying frenzy "seller's market", she was incredibly efficient and on top of things. At the time, we were actually in escrow for the purchase of a different home down the street that we ended up not going forward with since it would have required a lot of work and updating. When this house came back on the market after multiple offers, we jumped on it and everything worked out perfectly. Stephanie successfully negotiated a fantastic deal for us; $50,000 under asking with the office and guest bedroom furniture included. Stephanie is a top notch realtor, we wouldn't hesitate to use her again and highly recommend her to all of our family and friends."
– Myhang and Phillip Snead, Buyer